Lohtachev Denis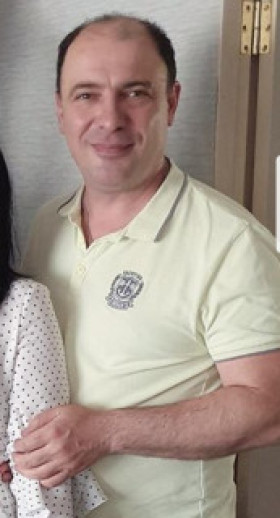 Country:

Russia

City:

Zlatoust
Lokhtachev Denis Aleksandrovich (born in 1971) – artist-application engineer, goldsmith, sculptor, teacher, member of Union of artists of Russia and International Association of fine arts (IAPA) UNESCO (1998). A graduate of the first intake of the faculty of "art processing of materials" of the Zlatoust branch of the South Ural state University (2001).
In 1992, he started his career in the Workshops of decorative and applied arts "Lik". Denis led a team of jewelry shop, worked as head of production workshops "Lik", mastered the skills of jewelry art. In 1995 he took an active part in coordinating the work of the creative team when creating the shield and Sword of Victory for the Central Museum of the great Patriotic war on Poklonnaya hill, Swords of Memory and Gratitude to the peoples of America, France and England.
In 1997 Denis Aleksandrovich became the winner and winner of competitions "the Future of Russia", "New names of the planet" by UNESCO. He was twice awarded the presidential scholarship in 1996 and 2003.
Under his leadership, was created the Tabernacle of Christ the Savior in Moscow, marked the beginning of jewelry in the direction of the activities of the workshops. For participation in the restoration of the Tabernacle Denis Alexandrovich was awarded the order Russian Orthodox Church of blessed Sergius of Radonezh III degree.
Church utensils – direction in the work workshops with great potential for development. In the work on the Shrine, Eucharistic sets, placetime, set for anointing Denis Lokhtachev focuses on the best examples of Russian jewelry art, transforming them into his work in an entirely new reality.
Denis is the author of many works of decorative art, such as sculptural composition "AK-bars" to the 1000-anniversary of Kazan, the Eucharistic sets, a plaque, and others.
Innovation in products D. A. Lokhtacheva manifested in the approach to the creative process and in ways of fulfilling the vision. In 2002, together with A. I. Lokhtachev, was created a jewelry composition "Manhattan" in memory of the tragic events of 2001 in new York. Artists have immortalized the memory of the fallen in a unique piece that is a monumental new direction of jewelry.
At the moment Denis Lokhtachev teaching at the Zlatoust branch of the South Ural state University, faculty "technology of artistic processing of materials". The result of this work was to develop new talent for workshops "Lik" and other well-known companies of decorative art.
Copyright products Denis A. on permanent display at the prestigious all-Russian Orthodox and jewelry exhibitions. For conscientious work, personal contribution to the development of unique fishing Zlatoust engraving on metal Denis Lokhtachev was awarded the Honorary diploma of the Governor of Chelyabinsk region.
D. A. Lokhtachev is a leading artist workshops "Lik" and continues to create unique works of decorative art.