Ganja Nikolay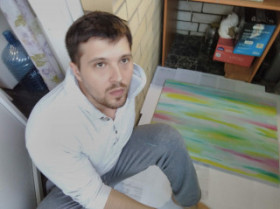 Country:

Russia

City:

Krasnodar
I've been interested in painting for a long time. For a long time, I studied a lot of thematic resources, trying to portray what I want to convey. More than one canvas was destroyed, and a lot of oil paint was spent before anything started to turn out.
For me, painting is self-expression, when I experience some feelings or in the soul "something is missing" I take oil and paint on canvas. The most suitable style that depicts feelings in my opinion is abstract, since everyone can see different things in it, and it turns out that such paintings are not limited to the framework of reality. Therefore, you can look at the abstraction, and after a while the brain will start to look for meaning in the image, and thus you can look for answers to your life or personal questions.
This site contains my works, they are protected by copyright. I do not copyright paintings, and I look for inspiration in nature, feelings and other sources. Each person is unique and their perception of the world is also unique, and the value of artistic images is not only that they carry some color, but that the artist conveys his vision.
I also want to note that it is now very popular to use painting in design solutions and projects. I can create different paintings for a design that will carry a deep meaning.
To sum up, I want to say that I am happy to share with you my vision through painting, and I am sure there will be those who will find something in this.