Goncharova Elena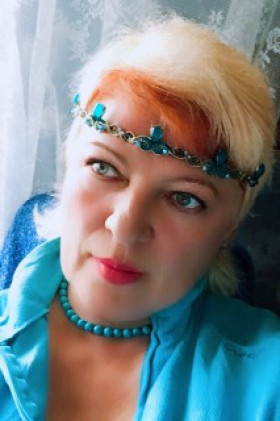 Country:

Russia

City:

Dzerzhinsky
The palette of the artist – as boundless Space, as a Space where the global movement reigns. Picture of E. Goncharova, their energy carried away in the movement, mention the fact that sometimes cannot be seen with the eyes, that connecting, Space and TIME give rise to the harmony of life. We are all COSMIC. And this is our starting point.
E. Goncharov and painter, and watercolorist. Her works are reminiscent of the creative priorities that were practiced in the early XX century symbolists, members of the "World of art" (1910-1924) under the leadership of Nicholas Roerich.
She writes in an anachronistic manner, preferring a strict pattern mystically glowing patches of color ("Moscow". "Sakura". "The Sun Is The Halo Of Divine Love." "The heart – Dance of the flowers". "Helen Is Awesome". "The fire of life.").
Their work E. Goncharova exhibited only in 2012. Today she is the holder of the certificate of the personal exhibition of painting "Portal of time" in the cycle "Architecture of art", given to her by the leadership of the Moscow cultural centre "Meridian". Creativity Goncharova gave a high evaluation of the known sculptor, the corresponding member of the Russian Academy of arts, honored artist of Russia Alexander Reznikov. As a professional psychologist, candidate of psychological Sciences Olga Nersisyan noted in the paintings of the artist healing properties. She believes that the color palette of paintings by Goncharova E. has a positive effect on the audience.
"To share their inspiration with people means to give them joy and love. It is a real sense of happiness", - said E. Goncharov.