Lelikova Natalya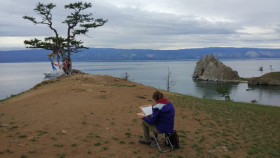 Country:

Russia

City:

Moscow
Natalia Lelikova, member of the Russian Geographical Society and Creative Union of artists of Russia. Painting pushed her beauty, seen in numerous mountain Hiking and traveling. Most of all it inspires me, which still have to get to snow covered passes, graphically the contours of the mountains with glaciers, damp, foggy valley. Inspire the little things, unnoticeable in everyday life and the magic of naturalness only in nature. Delicate details, strands of hair on the sun, the wind in the grass, the warm window into the sleeping house. Clean, cold water cascading over the rocks, overgrown with moss and the joy of staying in unity with all life.
Prefers to write in the places in which you want to return again and again and keep the work pure a sense of beauty of the moment.
Participated in several exhibitions, including personal, in Moscow and the Moscow region.
In 2018 with the support of the Russian geographical society, organized an art expedition "Unknown Russia" – a journey into the remote corners of our country to the small indigenous peoples of Russia with the aim of exploring traditions, customs and communication culture with the unique geography of its formation. To reflect the uniqueness of natural and cultural environment in painting. Some of these works including those presented on the site.