Bilyiy Viktor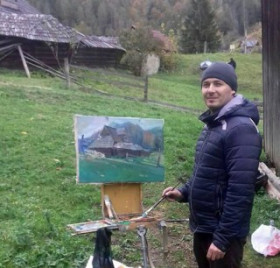 Country:

Ukraine

City:

CBS
BILY V. D.

He was born March 21, 1982 in the town of Kosov, Ivano-Frankivsk region in the family of artists. Its artistic vocation thank his mother, who instilled the love of beauty.

In 2003 he graduated from Kosowski state Institute of applied and decorative arts (Department of art wood products, trees and shrubs "bachelor"). Teachers from the profession of Osipchuk R. B., Balagura H. T. Stefurak, S. D., Radysh M. B., Crackalack O. I.

2004-2005 - studied in Lviv national Academy of arts (the faculty of "art tree"), where he received full higher education on a speciality "Fine and applied art" and got qualification of artist art wood products, researcher, teacher. Teachers from the profession - Slobodyan A. Th., Garbuz, R., Grabar D. I., Step Yuk I.In.

In 2008, she completed postgraduate studies at Lviv national Academy of arts.

From 2009 working as a teacher of drawing and painting in CPDM LAM at the Department of fine arts and academic disciplines.

In 2016, defended his thesis in the specialty "Decorative and applied arts" and received the scientific degree of candidate of art criticism.

He started his artistic career from 1999. In works using a variety of art subjects and themes : portraits, still lifes, landscapes, figurative compositions.

He exposed his works at solo exhibitions: in the Museum of M. Bilas (Truskavets), the Museum of the history of Truskavets, Kosovskoj the exhibition hall of regional organization of National Union of artists of Ukraine, Kosiv Institute of applied and decorative arts, district library, g. Gorodenka river, houses of culture D. Chernyatyn, as well as member of the regional (Ivano-Frankivsk) and Ukrainian (Kyiv, Kharkiv, Lviv) exhibitions.

Participated in the painting of these churches : Dormition of virgin (Ivano-Frankivsk region, Gorodenkovskiy R-n, d. cherniatyn), (Ivano-Frankivska region, Gorodenkovskiy R-N. D., Repuzhyntsi) SV. Nicholas (Odessa obl., g. Kiliya).

Explore the work of contemporary artists Cosoveni in the industry of decorative art.