CHirkova Olga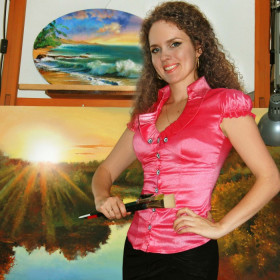 Was born in Semipalatinsk, Kazakhstan, on 19 July 1979. From the childhood he liked to draw, play music, invent and design. Get involved in sports. In addition to the high school, where he graduated with honors...
In 1995 — graduated from music school in piano (certificate with honors, gold medals in competitions, contests).
In 1996 he graduated from the school of ballroom dancing (gold medals in competitions).
In 2001, she graduated Semipalatinsk state University, art-graphic faculty, specialty — portrait (with honors).
In the same 2001 — professional badminton, the title: master of sports. In 2004, the champion of the CIS among students.
Worked in 2001-2002, the broadcasting company a computer graphics designer, flash animator.
In 2002, moving to Novosibirsk, Russia, where there are today.
In 2002 — graduated from the Novosibirsk state Academy of water transport, faculty of Economics and management, correspondence (diploma with honors).
In 2002-2003 he worked in a large label and packaging printing Creator (designer-designer, Christmas, alcohol, perfume and other packaging).
From 2004 to the present day — lead designer and photographer glossy fashion magazine-catalogue (distributed across Russia, with a circulation of about 50,000 copies, about 400 pages of A4).
Since 2009, she is married, her husband Michael is a professional photographer. And in the same year on light there were my greatest work — a daughter, Sophia! And 2014 has added to me another masterpiece — daughter angelina!
In 2015-2016 — building and running your own photo Studio&art gallery and frame shop.
Work, in addition to Russia and Kazakhstan, are in private collections the USA, Germany and China.